collective exhibition «Paradiso»
Exhibition : March 7 – April 16 2018
AlbumArte and IILA present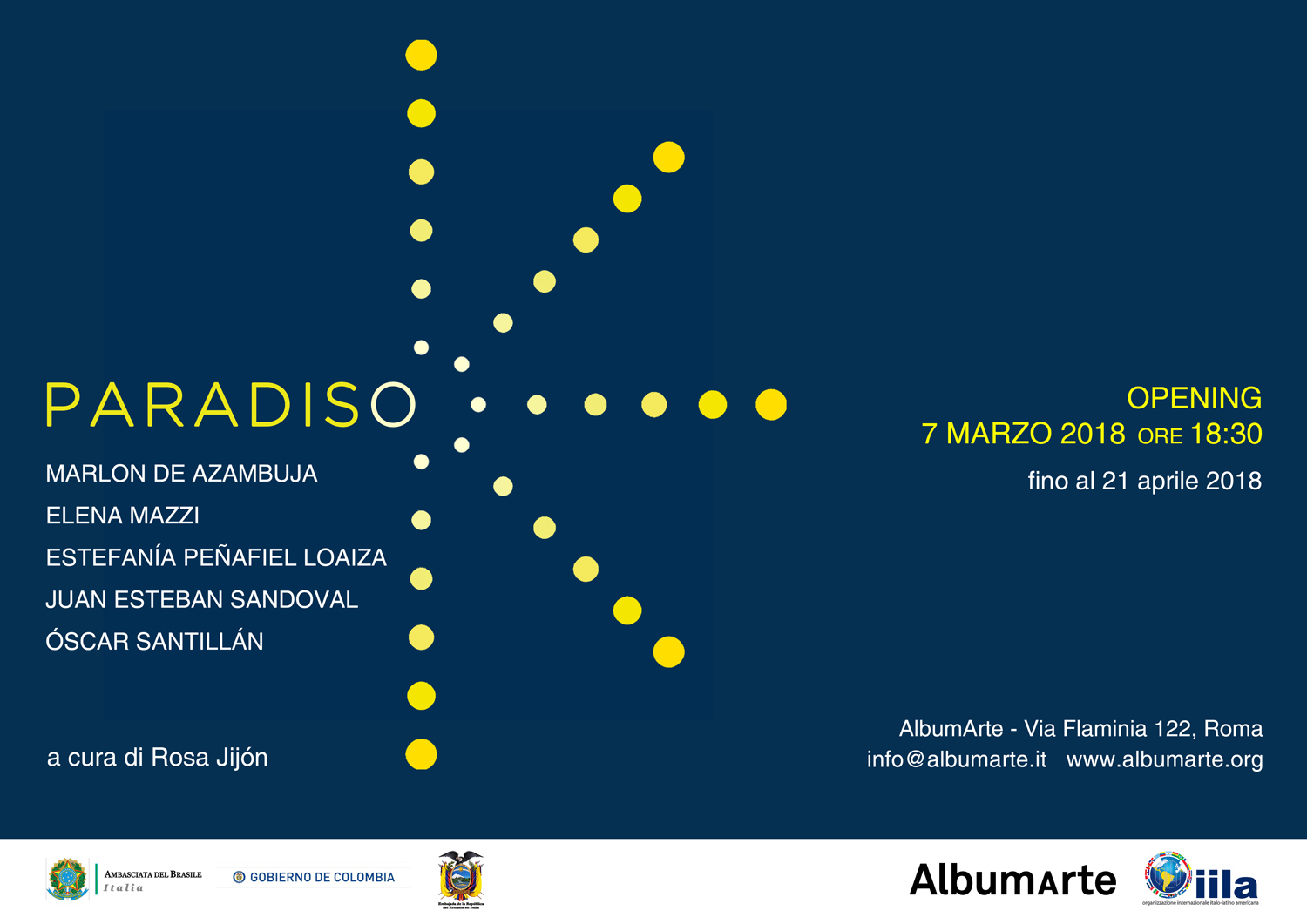 PARADISO
Marlon de Azambuja, Elena Mazzi, Estefanía Peñafiel Loaiza, Juan Esteban Sandoval, Óscar Santillán
Curated by Rosa Jijón
Opening reception on Wednesday, March 7th 2018 at 6:30pm Open to the public from March 8th to April 21st, 2018
AlbumArte, a non-profit independent space for contemporary art, and IILA, International Italo-Latin American Institute, co-present PARADISO curated by Rosa Jijón, a collective exhibition organized in the spaces of AlbumArte in via Flaminia 122 in Rome. The exhibition shows the works of four Latin-American artists living in Europe and an Italian artist whose work shares similar themes: Marlon de Azambuja (Brazil), Elena Mazzi (Italy), Estefanía Peñafiel Loaiza (Ecuador), Juan Esteban Sandoval (Colombia), Óscar Santillán (Ecuador).
From the Paradise of Dante's Divine Comedy, to the sensual Paradise of José Lezama Lima, passing through John Milton's Paradise Lost, the exhibition has literary references and contemporary values that question the concepts of ideal place, privileged points of view, disenchantment and utopia. From the colonial era, Latin America was seen as a virgin territory where anything could happen, akin to an earthly paradise. Today it became an experimental place for participatory democracy and social change. An important part of critical thought of our time and of the international artistic ferment is produced in this continent, filled with expectations and contradictions. In a context of disappearing ideologies, exclusions of different kinds, and complex relationships between human beings and Nature, the American sociologist-economist Saskia Sassen affirms the existence of 'spaces of tension'. These are interpreted by the works of the five artists in PARADISO, who present an exhibition made of various languages, bound together by the theme of ethico-political intolerance for the arbitrary use of the environment and for the uneven exploitation of human resources. The exhibition presents video works, installations, works realized with mixed techniques and with natural materials. All these interventions introduce a reflection on where we are going and how we are making this journey, after the globalization of the economy and the changes in the social, economic and political fabric of nations and cities.
All four Latin-American artists have extensive international experience and collaborations with important museum such as the Jeu de Paume in Paris and the MUAC in Mexico City, and their works feature in prestigious collections such as the Centro Atlántico de Arte Moderno (CAAM), Las Palmas in Gran Canaria and the Fundación Helga de Alvear. Newcomer Elena Mazzi – who is enriching her curriculum with respected prizes and artist residencies – has been artist-tutor at the Spnola Banna Foundation in Turin in 2016/2017.
The project has been realized in collaboration with the Embassies of Brazil, Colombia and Ecuador in Italy. Special thanks to IRI REAL ESTATE | Investments and Real Estate Sales. We also wish thank Casale del Giglio for the wine tasting.
More information :
http://www.albumarte.org/paradiso-group-show-opening-march-7-2018/?lang=en